1. PRIZE Blood tracking trial – 400 m/ 3 hrs
At the Danish Retriever Club Midsealand region's 50 years anniversary event, Momo and I attented the official blood tracking trial. The first level of trials in this discipline is a 400 m trail that has 'rested' for three hours. This is Momo's first trial on this type of work – and she did a great job. So now we will keep on working – and the next level is a trail that has layed for more than 20 hours. Thanks to the judge, Niels Christoffersen, and the trailmakers for an exiting trail – and to the club for a great weekend!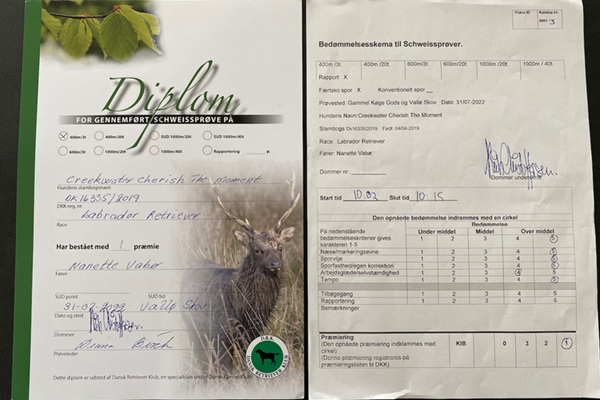 2. BEST BITCH – SWEDISH CAC!
The swedish Spaniel and Retriever Club (SSRK) hosted a national show in Gränna 19. June 2022.
Momo entered open class with 17 entries, so once again it was a large class. (51 entires in all: 13 dogs, 30 bitches, 8 puppies). Judge was Filip Johnsson and he apparently liked Momo, as she won her class with excellent and CCQ. Finally she became second best bitch and as the winning bitch is a swedish champion, the certificate was given to us. What a day!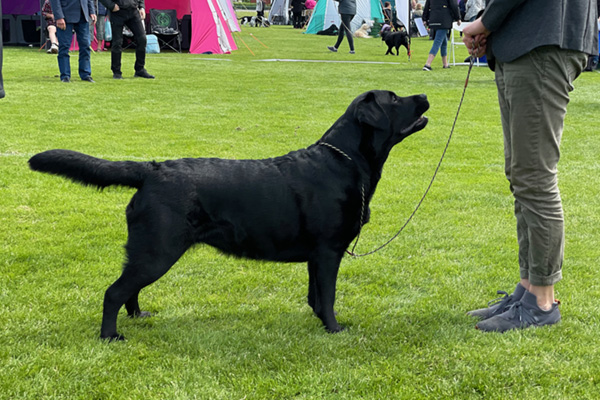 2. BEST BITCH – res.CAC & res. Nordic CAC
The swedish labrador klub and the swedish kennel klub hosted two shows in Hässleholm on the 21. and 22. May 2022. First day was the labrador club, with judge Judith Charlton. Momo entered a large open class of 22 bitches and got an excellent. Next day judge Sheelin Cutberth placed Momo as 2. winner with CCQ in the open class with 25 entries – and finally as 2. best bitch with res.CAC and res. Nordic CAC. The two show had more than a 100 entries per day.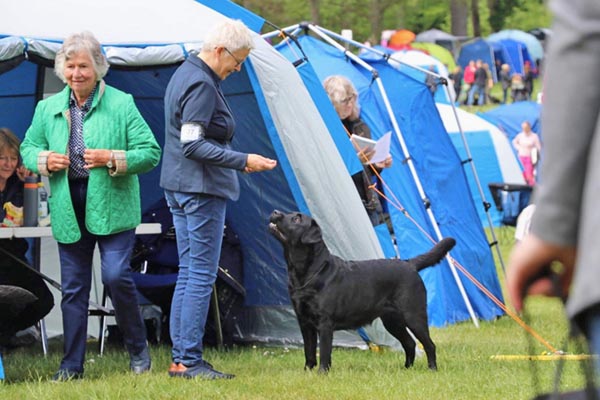 13-15.05.2022 – Three days of showing
Danish Kennel Club hosted two international and one nordic dog show in Roskilde. Momo did really good all three days with great critiques from the judges.
First day, she was placed as number five and on the third day she gained a placement as 3. winner with CCQ.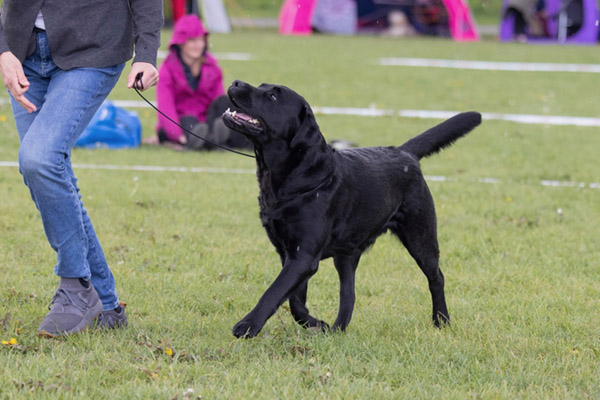 27.04.2022 – 'Debutant prøve' – unofficial
Debut on the new trial 'Debutant prøve' in Holløse in Nordsjælland. The trial is on dummies and is –as the name suggests – on a beginners level. Nevertheless only 8 of 25 entries gained 1. prize. And Momo did well this day… Good girl!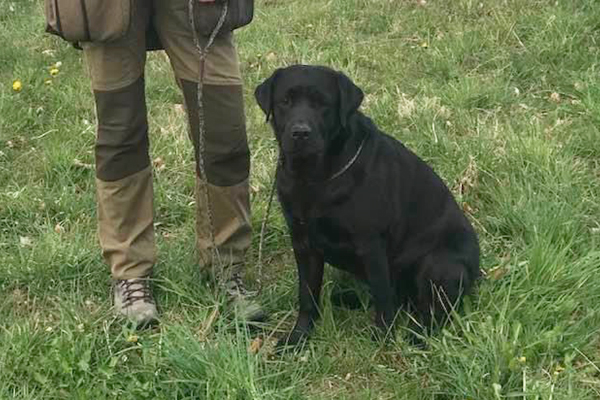 20.03.2022 – Unofficial Working Test – UWT
In Krogenberg Hegn DRK arranged a UWT with five posts. Of the 32 participants in beginners class only seven passed. Of the seven, only one was a field trial labrador, which became 3. winner. So six of the seven were all classic type labradors.
Memphis' daughter Astrid/Nala became 4. winner with a nice score including
2 x 20 point – 11 months old. Momo and I just passed and surprisingly became 7. winner.

12.02.2022 – Unofficial trial – 'C-prøve'
Today was an unofficial test on dummies (and no water) and first part of the trial Momo did perfectly – four markings of which one of them was thrown as a distraction to begin with and some heelwork. Second part was a 'free search' and here there is still room for improvement. We got a 2. prize (very good). I am pleased, as issues we have been working on apparently has been solved.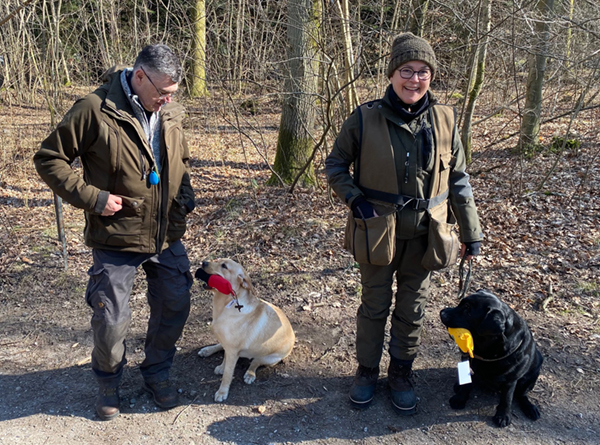 12.12. 2021 – 'Brugsprøve' / Obidence test
Daughter of Memphis and Fluffy, Astrid aka Nala, passed the basic obidience test. She is 8 months old and did everything perfect!
Congratulations to the owner Dragan and the breeder Ole Høj.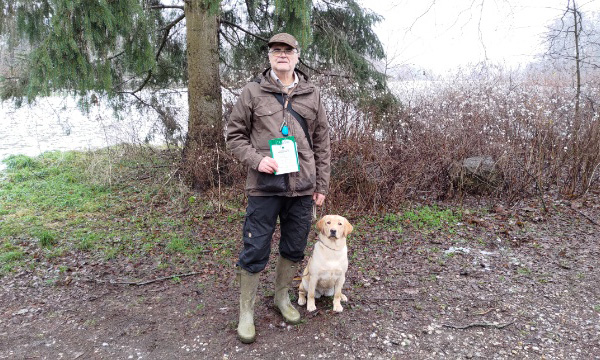 28.11. 2021 – DRK National Christmas Show
Last show for us this year! Momo enterede open class with 16 entries. Judge Gerda Groeneweg from The Nederlands seemed to like her type. Momo became 2. winner with CCQ.
BEST BITCH with CAC & CLUB CAC – BOS
At the DRK Specialty Show Saturday 18 September 2021 in Køge we entered before judge Tiina Illukka from Finland. Open class had 13 entries and it was a tough competition. But by the judge's final decision Momo won the class. Yet more was to come as Momo became BEST BITCH for the first time and gained her second CAC and first CLUB CAC!
Against Best Male, Lab Heartbreaker's El Paso, Momo became BOS. Congratulations to Susanne Hemmingsen with her lovely boy.

In the BIS competition with the BOS winners from the other retriever breeds, Momo became second best. Thank to swedish judge Carin Östman for liking my bitch. What a day!

Sunday we attended the DKK International Dog Show and was placed as number 2 with CCQ in open class. Judge Rony Doedijns from Holland.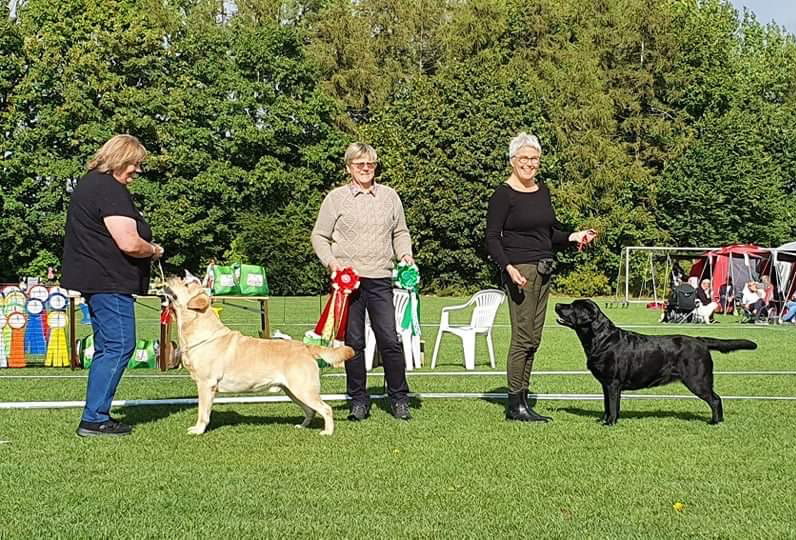 28-29.08.2021 – LabEvent Labrador Specialty – Feddet
Two intense days with four shows! More than 120 entries at each show – and with 24-27 entries in open class bitches you know in advance that it will be a difficult competition.

Still Creekwater Cherish the Moment – Momo – did really well and achieved two CCQ's this weekend. The first as 3. winner in class judged by Phillipe Lammens – and the second as 5. winner in class by judge Torunn Sørbye.

The two other shows she gained excellent – and made the first cut by judge Anna Geschwindt Hartvig. The fourth judge Matija Ficko liked a different type – and here Momo's sister Fenna (Creekwater Celebration Time) made the first cut with a nice critique.

Thank you Britta Lantz for the photos.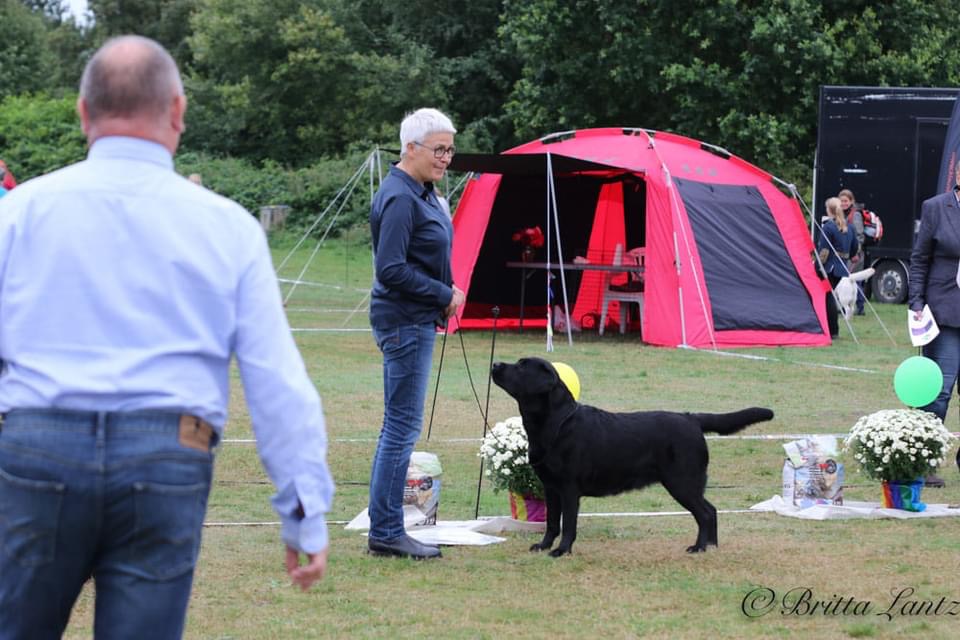 13-15. august – 3. BEST BITCH with RES CAC
3 days of showing on wonderful Bornholm – DRK's National Dog Show and DKK Internatial Dog Show. Momo was placed all three days – Friday as 3. winner in open class by judge Eva Liljenkvist Borg from Sweden, and Sunday 4. winner in open class also by a swedish judge, Hans Almgren.

Saturday was the day with our best result this weekend – 2. winner with CCQ and 3. BEST BITCH with RES. CAC. Judge was Joao Vascos Pacos from Portugal and he gave Momo following report:

"2 years and 4 months old, top quality bitch, very nice head and expression, correct neck and topline, very good shoulders and bone, nice tail set, correct coat texture, very good mover."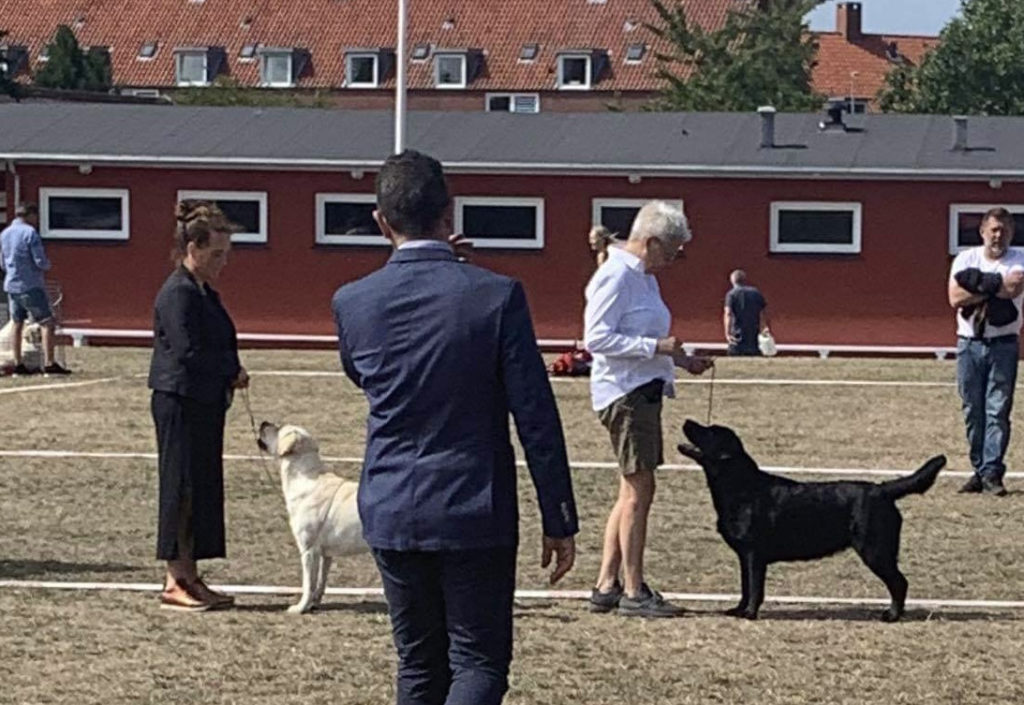 05. june 2021 – 4th BEST BITCH with CAC
We attended only one of three possible shows this weekend in Gørlev arranged by the Danish Retriever Club – Silver Cup.
In open class bitches there were nine entries. The swedish judge, Joakim Ohlson, liked Momo a lot – so she won her class with CCQ – and became 4th BEST BITCH. We were so lucky that the three bitches placed before us already were danish show champions. So the CAC was given to Momo!

Thank you Susanne Hemmingsen for the photo.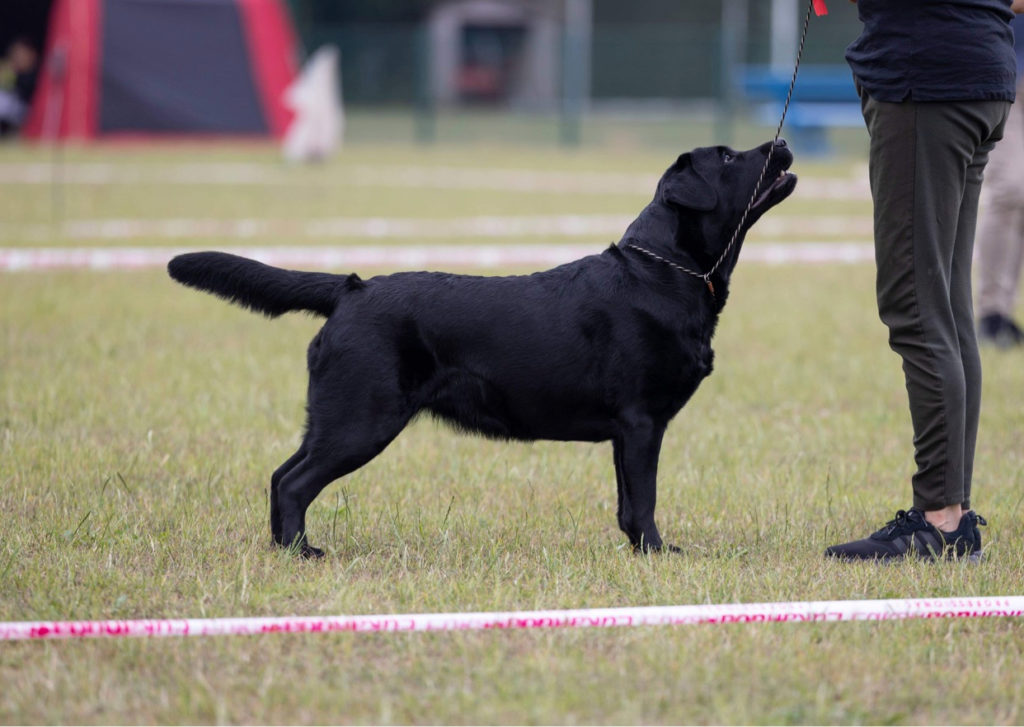 17. october 2020 – DRK National Dog Show – Sørbymagle
Momo's first and only entry in intermediate class…
1. winner with CCQ and 3. BEST BITCH. Judge was Lise Møller Frandsen.

Thank you Henriette Vabø for the photo.